A refreshing cocktail with a kick: That's the Moscow Mule! It's easy to prepare and an absolute jaw dropper to look at. This is how you make it!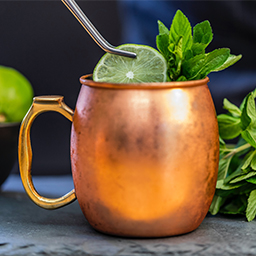 Ingredients
Vodka 45 ml • ginger beer 120 ml • juice from half a lime • ice cubes • lime wedge • mint sprig
What you need:
Copper cup • strainer
Preparation:
1 Squeeze the juice from the lime and strain the juice.
2 Fill your copper cup with ice cubes and add the lime juice.
3 Pour in the vodka (45 ml) and ginger beer (120 ml).
4 Garnish the glass with a lime wedge and a mint sprig.
5 Enjoy your Moscow Mule!
Are you looking for more inspiration? Take a look at our other blogs.